[POSTPONED to 2022] Utopia Zoo: The Bubbletea Incident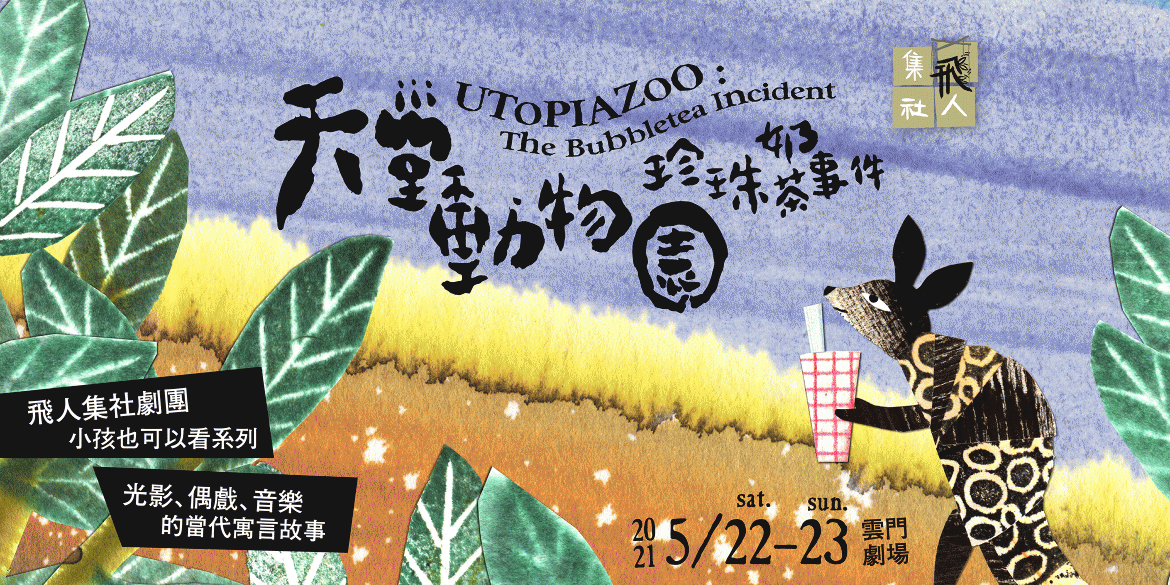 [POSTPONED to 2022] Utopia Zoo: The Bubbletea Incident
Integration is complicated in our modern pluralistic society. We need to get along with others everyday, be it in a band as small as a class or a company, or as large as a culture or an ethnic group. How do we manage various relationships in life? How do we show tolerance, sympathy, and understanding? This play intends to provide parents and children a discussion platform through a fable of two ethnic groups living together. Parents are free to use their judgment to vary the depth of discussion, as a child's worldview may be relatively simplistic. However, one of the most important parts of growing up is to experience the relationship between an individual and its group, and between the minority and the majority.
Baby Armadillo and Papa Armadillo went to the History Museum to see an exhibition on the Bubble Tea Incident in the Armadillo Nation. They saw many peculiar objects at the exhibit, including models of houses from residential areas in New Utopia, huge bags and muzzles, and some slideshows and documentaries. It was believed that this incident, which happened before Baby Armadillo was born, had something to do with Papa Armadillo. Baby Armadillo had always thought that those animal friends of Papa's were the bad guys, but was surprised to learn from Papa an entirely different version of the story.
It all began when the tribe of Utopia Zoo arrived at the Armadillo Nation after fleeing from a series of natural disasters in their homeland. Devastated and homeless, they implored King Armadillo to take them in. They worked hard to introduce themselves to the armadillos, showing that they came with no bad intentions. They hoped that by making a good impression, they could eventually receive legal residency. King Armadillo responded with a kind gesture by offering them jobs. However, for the sake of safety of the residents in the Armadillo Nation, the tribal people had to abide by some special regulations. Everything seemed to work perfectly, until the incident before that bubble tea shop took place. One day, when the tribal people of Utopia Zoo finished a day of hard work, and were about to order a cup of bubble tea to soothe themselves from fatigue, they got caught up in a misunderstanding with the locals, which escalated into a national panic of the Armadillo Nation, resulting in deaths of the tribal people. In response to the incident, the Armadillo Nation decided to bar all foreigners from entering the country indefinitely...