Rice
A sharply moving synthesis of man and nature, east and west, death and rebirth….a dance of the elements, Lin's own song of the earth.
The Guardian
Rice is not minimalist in the sense of Moon Water or other largely t'ai chi dao yin influenced pieces. There is, though, simplicity in the way the choreography reflects the world around us, including stalks of rice swaying in a breeze, sunshine, pollination and fire.
For the most part it is an ensemble work, with the notable exception of one long and striking duet in which the dancers weave sensuously around each other, always in physical contact, in front of close-up projections of rice shoots that are a forest of vivid green and gold.
The most thought-provoking scene comes towards the end of the "Fire" section, which depicts the burning of the fields after harvest in readiness for the following year. In silence, a lone woman stares at projections of plumes of black smoke engulfing the landscape.
It is in stark contrast to the heaviness and aggression of the preceding dance in which the men fight with bamboo poles so often seen in rice fields…The scenes could easily equally be of the huge annual fires that burn in the Indonesian rainforests, and whose smoke chokes Singapore and Malaysia.
Dacing Times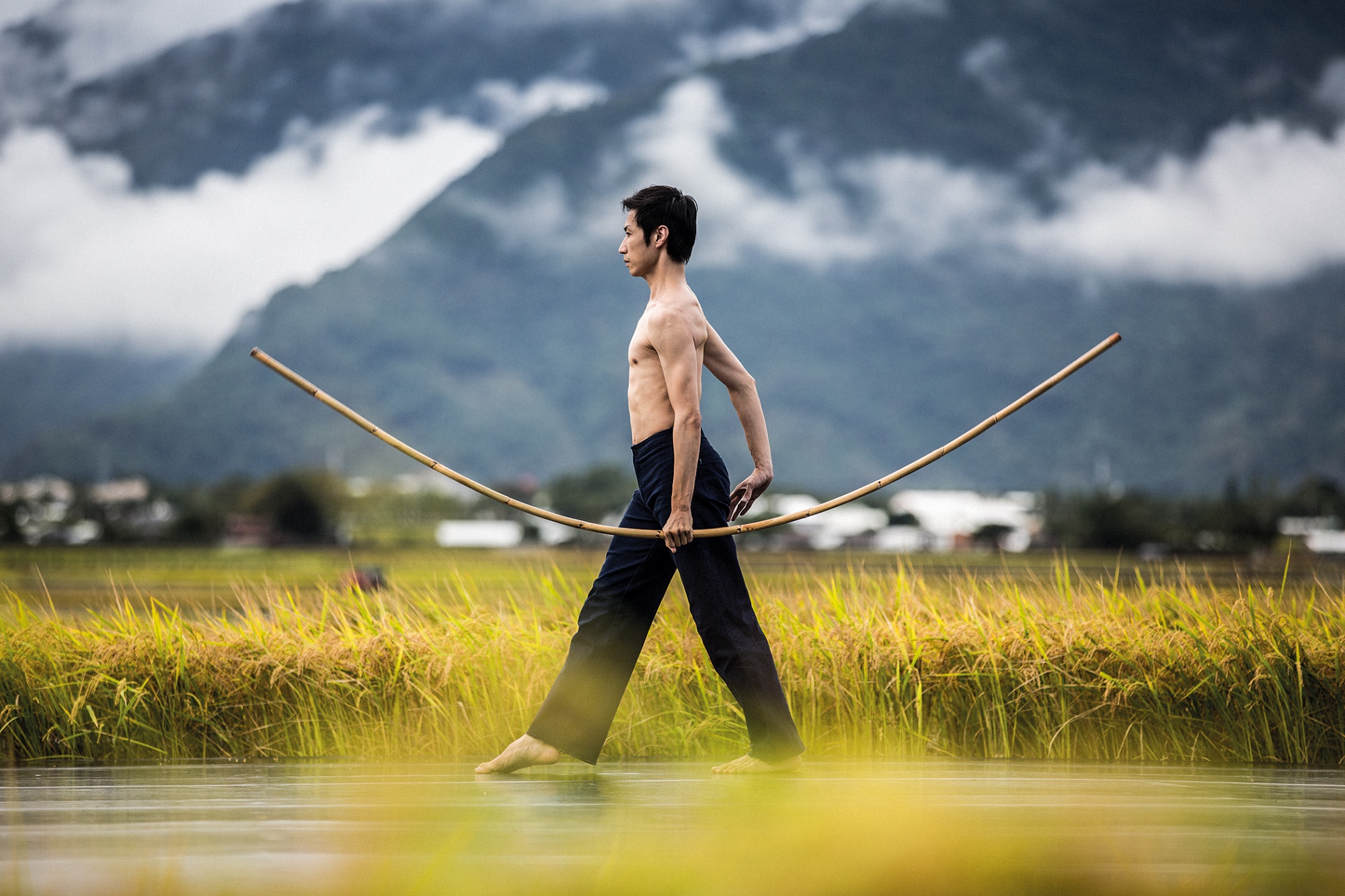 Photosynthesis is real and Cloud Gate Dance Theatre takes you through the great cycle of life with Rice. The imagery is breathtaking and the trembling bodies force you to settle, be still and think about rehabilitating our Earth.
Bachtrack
Fiery rhythms from Taiwan. Sensual treats for the eyes.
Dresdner Neueste Nachrichten
Epic in scale and sculptural in style.
NZ Herald
It is fair to say that no other troupe looks, or performs, like Cloud Gate.
Throughout, the movement is unmistakably Cloud Gateian, with passages of coiled, hyper-slow intensity peppered with bursts of frenetic, often martial fury.
At times, the dancers stomp their heels in perfect unison, as if trying to drive seeds into the ground; at others, they swirl across the stage like pollen caught on the breeze.
The stand-out passage, by some way, is "Pollen II", an almost eye-wateringly suggestive floor-bound exchange between dancers Huang Pei-hua and Tsai Ming-yuan representing the botanical fertilisation process: steamy stuff, but immensely poetic too.
The Telegraph 
What is extraordinary about Lin's work, and the way Cloud Gate performs it, is how it can undermine Western expectations about how time unfolds on stage. He can build shapes so slowly and unfurl phrases so meticulously that his choreography seems to happen in a parallel universe, while his dancers evince an almost superhuman control over their bodies.
The Times
Rice is a work that will resonate for some time after viewing, on both emotional and intellectual levels. 
The life cycle of rice can indeed serve as a metaphor for life itself: with its rituals, its creative and destructive aspects, and its moments of pure unadulterated joy. 
Theatreview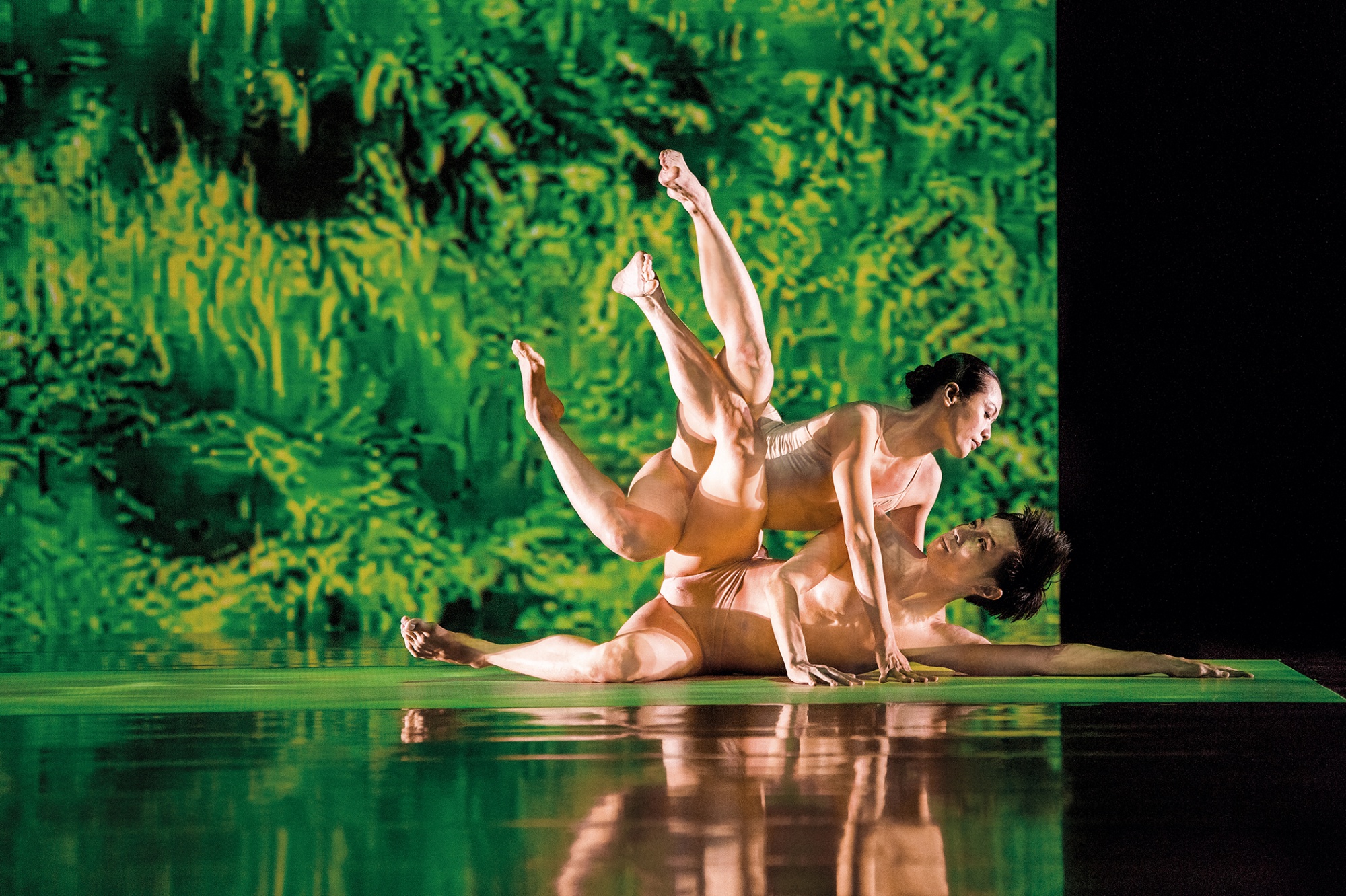 Taipei Times
An Evening of Sustenance
Diane Baker
 
Nothing is simpler than a bowl of rice. And yet rarely do people think of the labor of love that goes into the production of those small grains. It is easy to take rice for granted.
The same could be said of Lin Hwai-min's (林懷民) newest work for Cloud Gate Dance Theatre (雲門舞集), Rice (稻禾), which had its world premiere on Friday night (November 22, 2013) at the National Theater in Taipei.
Rice is the essence of simplicity; there are no flashy moves or pyrotechnics. It is not simple in the sense of the stark Zen minimalism of other Lin works such as Water Stains on the Wall (屋漏痕) or the Cursive (行草) trilogy, but simple in the way a breeze sways branches of trees or stalks of rice, clouds are reflected on the surface of a lake, or the wind rustles past. It is the simplicity of the things we take for granted in the world around us.
The natural world is both the inspiration and the setting for Rice, brought into the theater thanks to the videography of Chang Hao-jan (張皓然), who worked over two years filming the seasons in Taitung County's Chihshang Township (池上), and Ethan Wang's (王奕盛) projection design.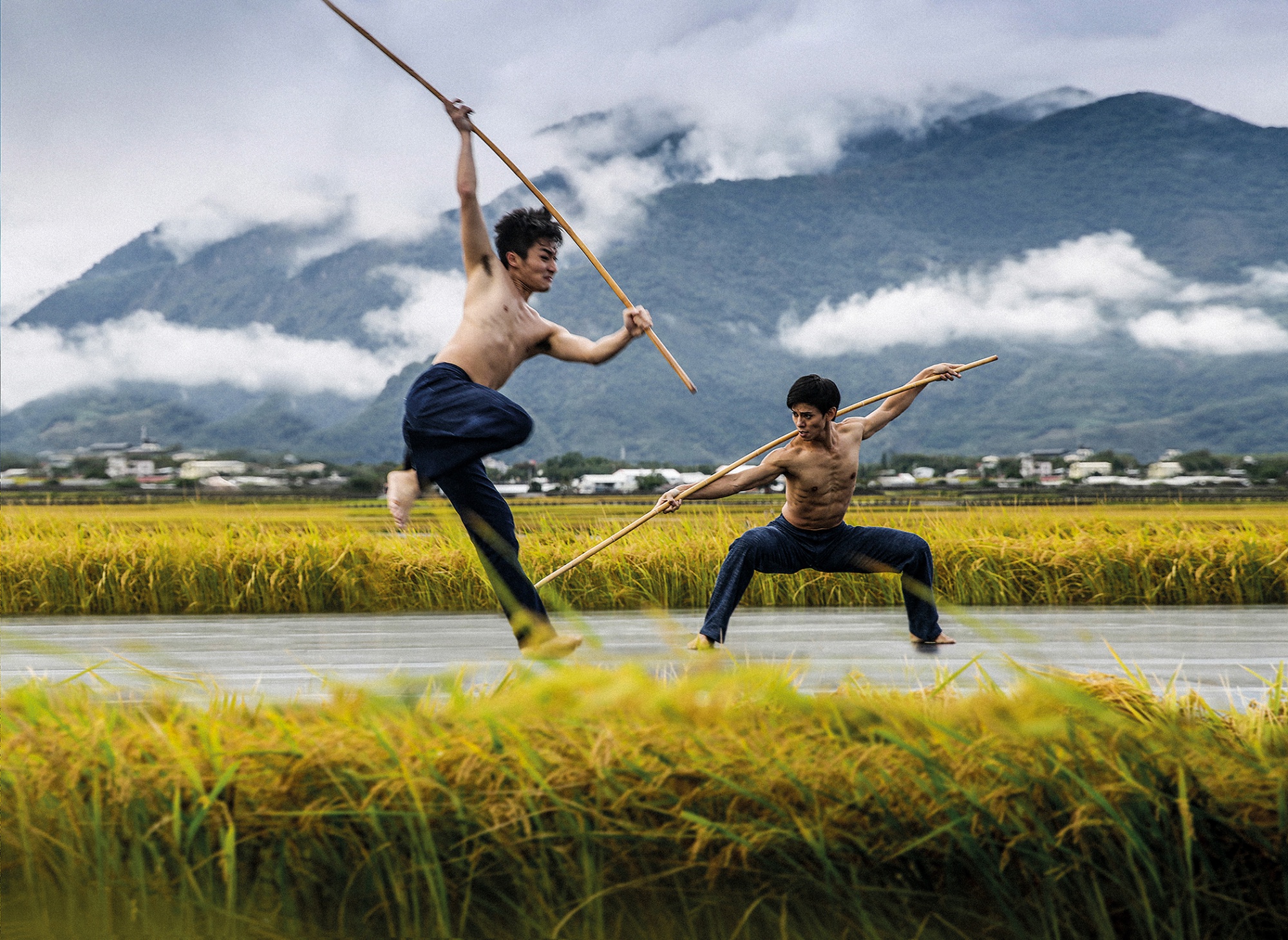 The video shifts in focus from close-ups of seedlings to expansive views of the East Rift Valley, from ripened grains to sweeping fields of green, while the screen size changes from a thin low-to-the-ground stretch of muddy paddy to a full backdrop panorama or small boxes of color, thanks to Lin Keh-hua's (林克華) set design.
As befitting a work marking the 40th anniversary of Cloud Gate's founding, Rice is truly an ensemble work. While there are scattered short solos, quartets and sextets, the emphasis is on the company as a whole, with the exception perhaps of the gorgeous coupling of Tsai Ming-yuan (蔡銘元) and Huang Pei-hua (黃珮華) in the "Pollen II" segment.
Tsai and Huang curl and weave about on the floor against a small rectangular backdrop that is a sea of green and gold, seamlessly melding together, at least one part of their body always in touch with the other's.
Much of the movement in Rice is low down, there are few lifts or carries, but lots of floor work and shoulder rolls, keeping a connection with the ground, the earth. The women are often hunched over, like farmers bending down to plant seedlings. The repeated sequences of male dancers slowly pacing across the stage, a long flexible bamboo pole bouncing in one hand, brings to mind the steady pace of a water buffalo pulling a plow through a field.
There are repeated cycles of movement, just as the changing seasons repeat the cycle of life on a rice farm.
Yet Lin clearly has a bigger message in mind than just a valley of rice in Taiwan. When it is time for the paddy to be burned after the harvest, blackened fields fill the screen. Concentrate on the close-up of the flickering flames amid the burning clumps of stalks, with the smoke filling the air, and the image could be an aerial view of the now annual fires that consume huge swathes of Sumatran rainforests, producing a smoky haze that chokes Singapore and parts of Malaysia.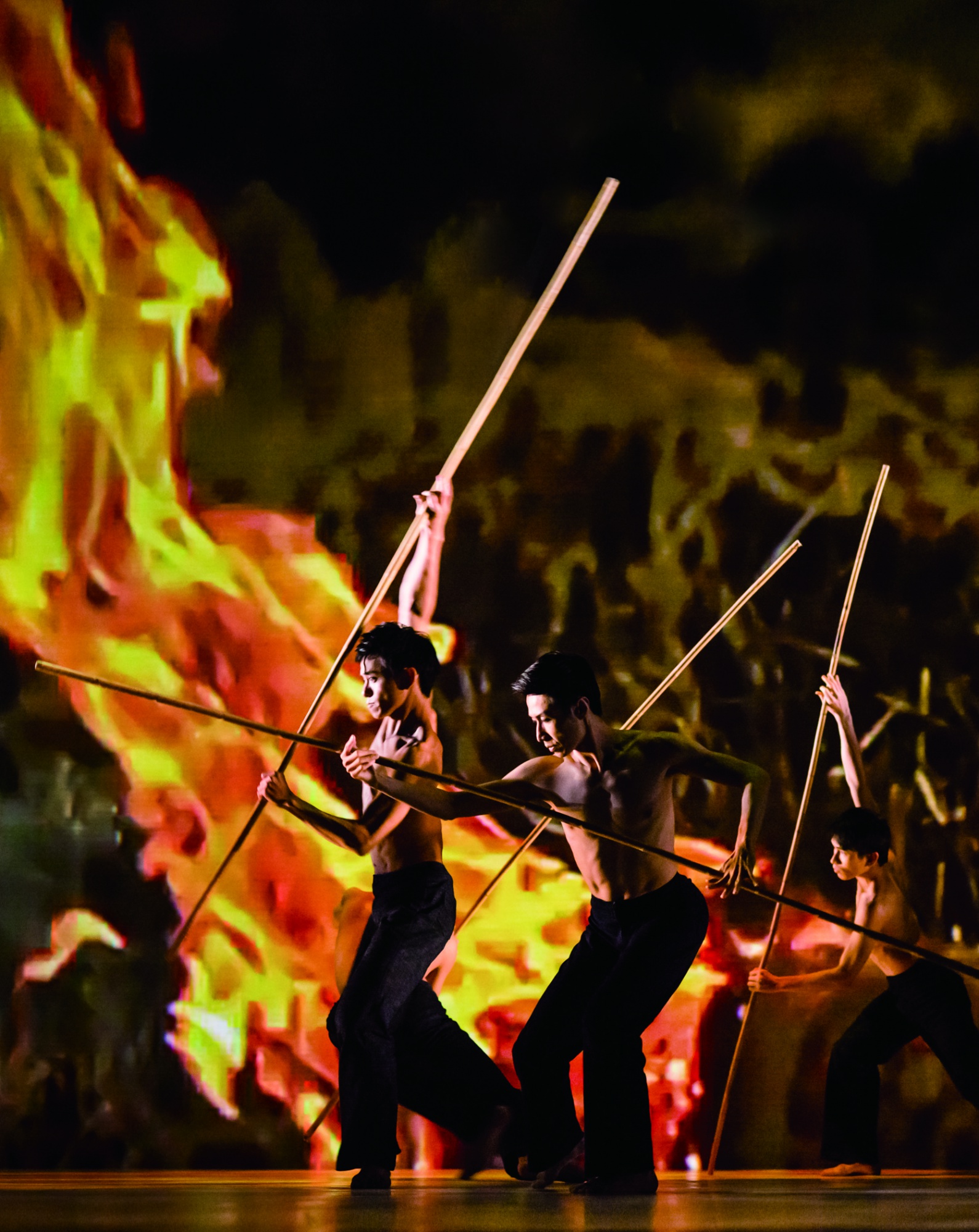 It is hard not to read a message about the destruction of our environment into the segment.
Rice ends with footage of water streaming down from the top of the screen through a paddy and flooding across the stage, readying the earth for another planting, as a lone woman, bathed in blue sunlight, stands center stage, ready for another season.
Friday night's show was more than just a premiere; it was a celebration of Cloud Gate and its history, and a thank-you to its legions of supports. The evening opened with video feeds of the audiences in seven theaters around the nation as well as the huge crowd outside in Liberty Plaza who had gathered to watch a simulcast of the show. 
The evening ended in sustained applause not only for Lin, the cast and design team of Rice, but for the dozens of former company members who were brought up on stage from the audience, including several from the very first years, as well as the troupe's venerated tai chi master, Hsiung Wei (熊衛).
Almost from its very beginning, Cloud Gate has been embraced by the Taiwanese, who have shown a fierce national and family pride that is very rare for a dance or theater company, even in countries that have state-sponsored troupes. That love and pride was evident on Friday onstage and off—and it clearly flowed both ways.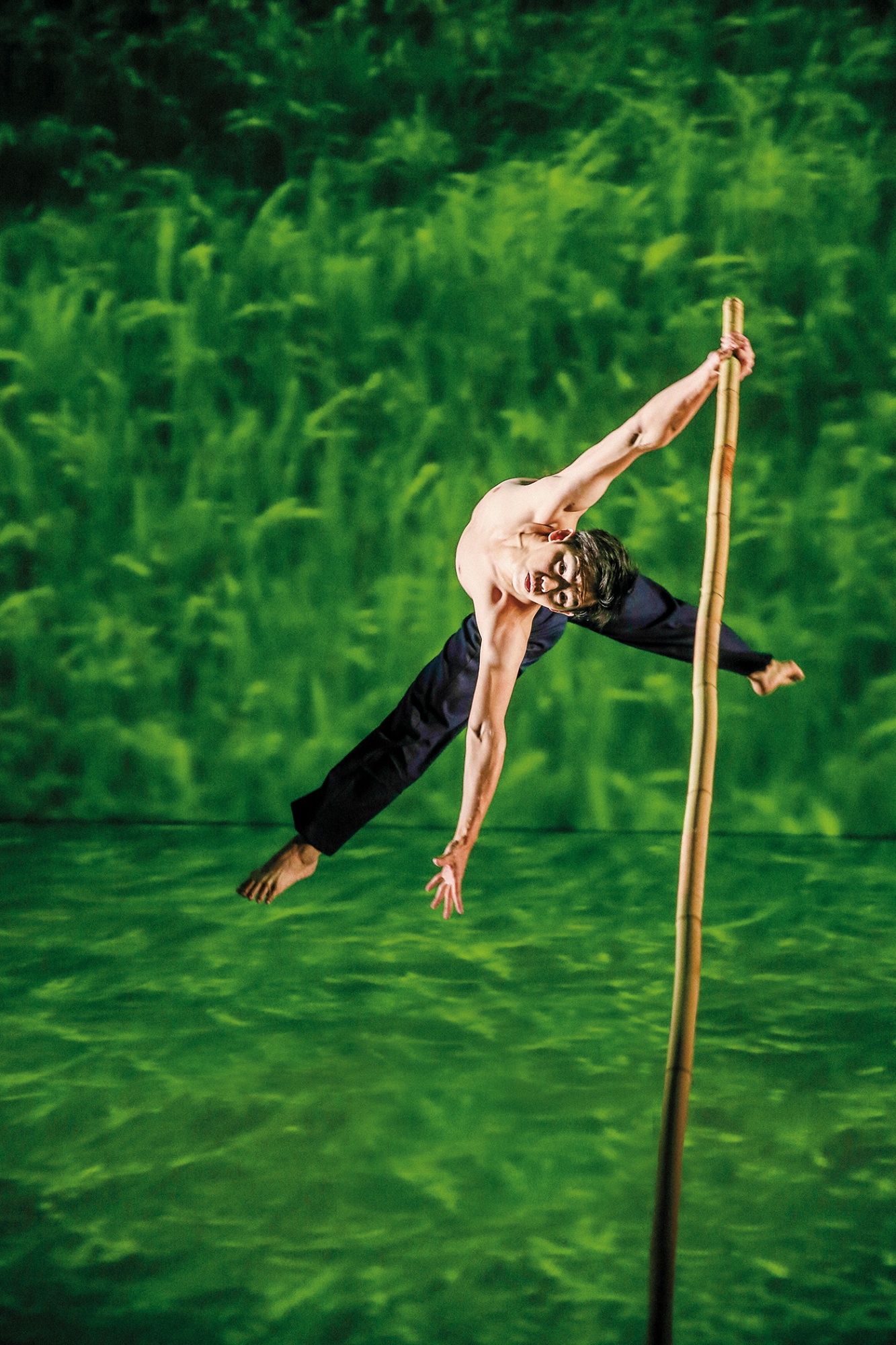 Rice
Concept / Choreography 
Lin Hwai-min
The creation of Rice is commissioned by Wen C. Ko
Music 
Hakka traditional folk songs
Liang Chun-mei 
Ishii Maki
Vincenzo Bellini  
Camille Saint-Saëns  
Richard Strauss
Set Design 
Lin Keh-hua
Lighting Design  
Lulu W.L. Lee
Projection Design  
Ethan Wang
Videography  
Chang Hao-jan (Howell)
Costume Design 
Ann Yu Chien
Li-Ting Huang
Department of Fashion Design from Shih Chien University
Creative Assistant to Mr. Lin 
Liang Chun-mei
Premiere 
November 22, 2013, Taipei, Taiwan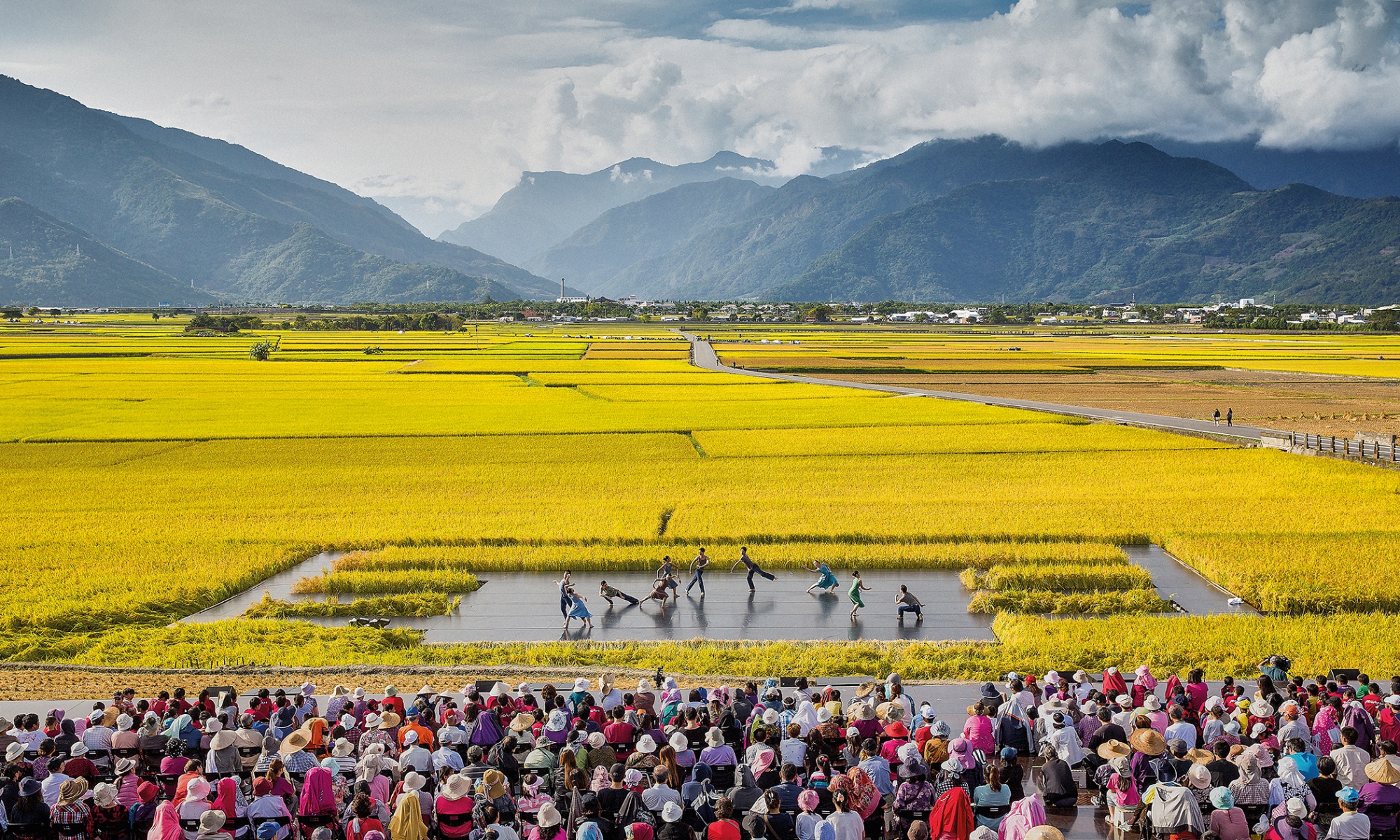 Visited venues include
Sadler's Wells Theatre, London, UK
Théâtre de la Ville, Paris, France
Next Wave Festival, New York, USA
Hellerau — European Centre for the Arts Dresden, Germany
Huayi Chinese Festival of Arts, Singapore
New Vision Arts Festival, Hong Kong
Movimentos Festwochen der Autostadt in Wolfsburg, Germany
The John. F. Kennedy Center for the Performing Arts, Washington D.C., USA
Chekhov International Theatre Festival, Moscow, Russia
Palacio de Bellas Artes, Mexico
Maison de la Danse, Lyon, France
The Music Center, Los Angeles, USA
Auckland Arts Festival, New Zealand
Teatros del Canal, Madrid, Spain
Internationaler Tanzsommer Innsbruck, Austria
Festspielhaus St. Pölten, Austria
LG Arts Center, Seoul, South Korea
Teatro Pavarotti, Modena, Italy
Grand Théâtre de Provence, Aix-en-Provence, France
National Centre for the Performing Arts, Beijing, China
Shanghai Oriental Art Center, China
Guangzhou Opera House, China
Macao Cultural Centre, Macao

Music is used by arrangement with and permission of Wind Music Ltd., Warner Music, Universal Music, Linfair Records Limited,
Friedrich Haider, and JVCKENWOOD Victor Entertainment, Inc.