Leisure and Food
LEISURE AND FOOD
Cloud Gate Theater is a cultural attraction for events and performances year-round. The seasonal changes of the park and grounds make perfect for day outings with family and friends.  
The Theater is surrounded by tall trees and lush greenery, with beautiful flowers blossoming all year round. 
In April and May, roadside jacaranda trees burst into full bloom, tinting the sky with shades of purple and blue. In summer, lotus flowers cluster around the dancing statue of LO Man-fei. 
When coming for performances, you could arrive a little earlier before and linger a bit later after. Don't hurry home. Indulge yourself in the breathtaking beauty of the Theater.
Spend a relaxed day and evening at Cloud Gate Theater for an experience of nature and art.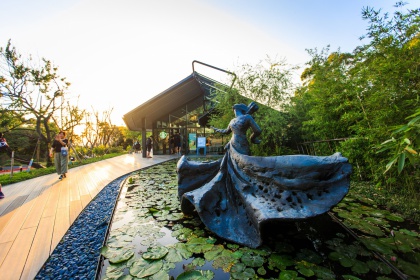 Hidden behind the dancing figure of LO Man-fei is a naturally lit glass house surrounded by exuberant greenery. This is the Starbucks at Cloud Gate, Tamsui, a dainty place for coffee and art to meet.  
Starbucks at Cloud Gate, Tamsui
For more information, please call +886 02-2805-5247.
Opening hours: Mondays to Fridays 10:00 - 17:30, Saturdays and Sundays 09:30 - 18:30
Photo by  Matt WEN  Tamsui Historical Museum  Cloud Gate Foundation  Starbucks